School Football Team Reports
Our Y5/6 Girls Football team played against Monks Coppenhall on Thursday 29th June at the Cumberland Arena. The girls had put in an excellent performance in their first game and we hoped we could play at the same level once again. In the searing heat of Summer, we put in another great performance- we were solid at the back, with Molly Wharton and Holly Bloor standing up strong to any Monks attackers. Maya Anghel was once again fantastic in goal and made a couple of smart saves. Going forward, we found more space than our previous game and we passed the ball well to ge tthe ball forwards and into Michelle Isiama Mba. She was on fire, as she helped herself to four goals on the day, the last one crashing in off the crossbar. The hard graft in midfield was done well by Paige Haynes, Rubi Masser, Amelia Banks Scott and Purvvi Molleti- they all worked so hard in the heat and put in excellent performances. Well done to the girls on recording a great win and really gelling together as a group.
Squad: Molly Wharton (c), Rubi Masser, Paige Haynes, Holly Bloor, Amelia Banks-Scott, Purvvi Molleti, Maya Anghel, Michelle Isiama Mba.
*********************************************************************************************************************************************
Our girls football team played their first match of the season away at Hungerford on Friday 9th June. We took a squad with a mixture of experience- some had played last year, but the majority were playing competitive football for the first time! Hungerford had played a few games already and flew out of the traps, but we battled really well and our defence of Molly Wharton and Amiee Taylor stood firm. We nearly broke through on a number of occasions as both Rubi Masser and Michelle Isiama Mba's pace caused the opposition problems. In a tight first half, a moment of magic from a Hungerford midfielder saw her skip past 2 or 3 challenges before smashing home off the post.
Second half we made changes to try to keep the team fresh in the sweltering Summer sun. Goalkeeper Maya Anghel was forced into making a few excellent saves and both Amiee Taylor and Molly Wharton made last-ditch tackles to keep us in the game. We continued to work really hard and compete in every tackle but we couldn't create enough going forward. Hungerford sneaked a 1-0 win, however we can be delighted with our performance!
The girls were amazing and it was great to see them smiling and enjoying playing football. Holly Bloor was full of energy and at the heart of our best forward play and the defensive due of Molly Warton and Amiee Taylor were rock solid. Player of the match went to Maya Anghel who made some stunning saves and kicked the ball out of her hands really well.
Thank you to Mrs Wolstencroft for coming to support the girls and to the hoards of parents that travelled over Hungerford bridge to support the team. Well done girls!
Squad: Molly Wharton (c), Amiee Taylor, Holly Bloor, Rubi Masser, Summer Ivey, Paige Haynes, Purvvi Molleti, Michelle Isiama Mba and Maya Anghel.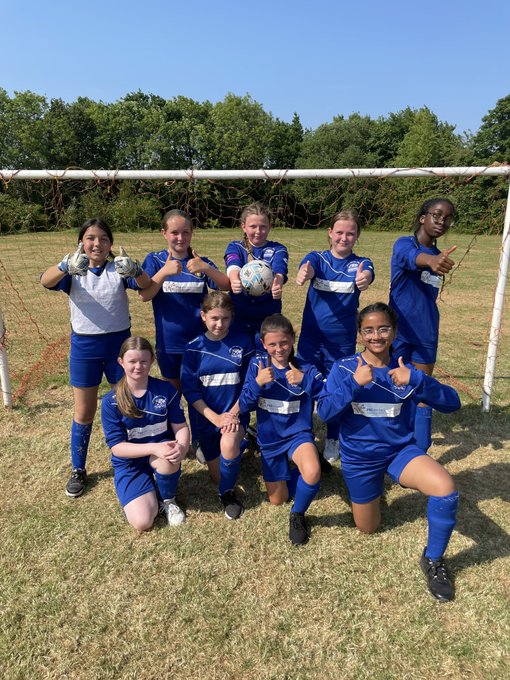 **************************************************************************************************************************************************************************
We entered the Trophy 75 Football Competition on Friday 24th March at the Soccer Centre. There were 16 schools competing and we were placed into 2 groups of 8. We started with a fantastic win against Acton- we were under pressure for long periods, but defended well and got the break when Augustin Balaz played in Jensen Lindsay and his shot spun in off the post. Game two saw a stronger performance against Highfields. We passed the ball around well and a James Edwards goal was enough to take the win. We made it three wins from three with a convincing 3-0 win against St Mary's, thanks to goals from Augustin Balaz, Daniel Laczo and Tommy Tomkinson.
Game four saw us go 1-0 up against St Anne's thanks to a long-distance strike from James Edwards, but we were pegged back with two minutes to play. A 1-1 draw was probably a fair result and kept us unbeaten. We played Shavington in game five and we were starting to tire a little- Shavington were quicker to the ball and we had to defend really well. We couldn't find a breakthrough at the other end and a 0-0 draw just about kept us in the hunt to top the group. Tiredness did take its toll as we ran out of steam in game six, losing 3-0 to eventual winners Stapeley Broad Lane. We never got going and despite some excellent saves from Harry Poynton, we didn't offer him enough protection.
We finished 3rd in the group, just missing out on 2nd place on goal difference- we had a mean defence but didn't quite score enough goals. This meant we played Beechwood for 5th/6th place overall and in an attempt to try to freshen things up, we made a few positional changes, with Daniel Laczo going in goal. We were unlucky to goal two goals down, but a goal from Natan Czuczalow got us back into the game, but despite hitting the post twice we couldn't find an equaliser that would've taken the game to penalties.
Overall, this was a good effort by all of the team- there were some great performances from Harry Poynton in goal, Natan Czuczalow and Joshua Blackshaw were immense in defence, and James Edwards and Jensen Lindsay were at the heart of our best attacking play.
Squad: Natan Czuczalow (c), Harry Poynton, Tommy Tomkinson, Augustin Balaz, Jensen Lindsay, Joshua Blackshaw, Daniel Laczo, Molly Wharton and James Edwards.
Thank you to all of the parents and staff who supported the team.
Mr Foulkes.
---------------------------------------------------------------------------------------------------------------------------------------------------------------------------------------
Our final fixture of the Autumn Football League took place on Thursday 17th November, as we hosted St Michaels at the Cumberland Arena. We were determined to put in an improved performance, after a poor 2nd half cost us the points in our previous game. The game started positively, as we created a fine opening for Augustin Balaz early on, but he could only drag his shot wide when it looked certain he would open the scoring. We had more energy about us in midfield, with Joshua Blackshaw and Jensen Lindsay linking up well and covering every blade of artificial grass! We fell behind when we failed to attack the ball from a long throw and we were second to the ball, allowing the St Michaels forward to poke the ball past Harry Poynton in goal. We responded fairly well to going behind- Daniel Laczo had a shot well saved and Jensen Lindsay shot just wide from distance.
At the break we couldn't shuffle the pack as we had a bare 7 players, but we talked about being first to the ball and trying to move the ball faster. We applied this and were much more competitive in our tackles and we started to put together some nice passing moves. We looked organised at the back, as Natan Czuczalow and James Edwards repelled every attack and Daniel Laczo really got stuck in, as he made his first start in an unfamiliar left back role. We then were undone by the poor weather conditions and a bit of bad luck as a shot from distance was unfortunately spilled by Harry Poynton and bounced in off the post. We were now up against it and there was a chance heads would drop. Harry Poynton then made two excellent saves, as he tipped the ball round the post and held on to another skidding shot from distance. The mood changed when James Edwards scored an absolute screamer of a free-kick to open his account for Brierley and get us back to within a goal. We threw all we had left in the tank at St Michaels and we had half chances from Augustin Balaz and Jensen Lindsay, but couldn't quite make the connection needed to beat a good goalkeeper.
Our final group game ended in a third successive 2-1 defeat, but this was a much better performance than our previous game and if we had gone ahead early on, we may have come away with something. The boys were magnificent and gave everything they had in the driving rain. Player of the match again went to James Edwards who was excellent- he passed the ball well, was strong in the tackle and scored a beauty of a goal. Well done to all of the boys- we keep improving and with a little luck, that first win of the season is coming....
Mr Foulkes
~~~~~~~~~~~~~~~~~~~~~~~~~~~~~~~~~~~~~~~~~~~~~~~~~~~~~~~~~~~~~~~~~~~~~~~~~~~~~~~~~~~~~~~~~~~~~~~~~~~~~~~~~~~~~
Our football team played their 2nd fixture of the Autumn League, as we visited Gainsborough on Thursday 3rd November. After a good performance (despite losing out 2-1) in our opening fixture against a strong Mablins Lane team, we hoped to get our first points on the board in this game. We were the stronger team in the early exchanges, as we had a series of dangerous corners that were delivered beautifully by Augustin Balaz, but only the one header by Joshua Blackshaw troubled the goalkeeper. We looked comfortable at the back, with Harry Poynton having little to do in goal apart from sweeping up the odd loose ball. We started to move the ball well, with the front 3 of Augustin Balaz, Jensen Lindsay and Joshua Blackshaw combining and nearly breaking through. We got our breakthrough when Malaki Mellor won the ball and fed Joshua Blackshaw. His through ball put Jensen Lindsay through on goal and he smashed the ball home to give us a 1-0 lead at the break.
After halftime the game swung in Gainsborough's favour, as we were really sloppy in possession and started to resort to shots from long distance instead of working the ball in on goal. We were hit on the break after losing the ball right near the opposition goal and this allowed the game to open up, as both teams looked for a winner. James Edwards went on a couple of marauding runs down the right and Augustin Balaz caused problems down the left, but we couldn't create a clear-cut opportunity. Then the sucker-punch came, after a poor pass allowed the Gainsborough player to strike the ball well from distance, with Harry Poynton having no chance in goal. We had to chase the game and with a minute to go, a half volley from Malaki Mellor looked to be heading in, only for the keeper to make an excellent save and tip the ball over the bar.
It wasn't to be the day that we recorded our first win and it was disappointing to lose out 2-1 after leading the game, for the second game in a row! We paid for a sloppy second half and we will learn from it going forward. Mentions go to Jensen Lindsay who scored his first goal for Brierley and worked tirelessly and player of the match went to James Edwards who tried to drive the team forward and has made a great start to school football in the two games he's played.
Squad: Natan Czuczalow (c), Augustin Balaz, Malaki Mellor, Daniel Laczo, James Edwards, Joshua Blackshaw, Harry Poynton and Jensen Lindsay.
Thank you to all of the parents who came to support the team and helped transport the boys.
----------------------------------------------------------------------------------------------------------------------------------------------------------
We played our first football match for nearly 3 years on Tuesday 11th October, in a home fixture at the Cumberland against Mablins Lane. With a strong turnout from the fans, we started the game in the best possible way, with Augustin Balaz opening the scoring with a well placed shot from distance. We gained confidence from this and settled into the game. Jensen Lindsay had an effort which just skimmed the bar but then a couple of defensive errors allowed Mablins to turn the game around by half time.
Second half saw us defend really well as a team and we created chances to go level. Daniel Laczo forced a good save from the keeper and Augustin Balaz dragged a shot just wide. Malaki Mellor came closest to the equaliser we perhaps deserved when his effort was just clawed against the post by the lucky Mablins keeper. At the other end Harry Poynton had a faultless 2nd half in goal, making a couple of smart stops. We fell just short in the end, but can be fairly proud of our efforts for a first game of the season.
Mentions go to Malaki Mellor and James Edwards who were both solid at full back and grew in confidence as the game went on. Jensen Lindsay and Joshua Blackshaw kept plugging away in midfield and had some good passages of play. MOM went to the skipper, Natan Czuczalow who didn't put a foot wrong at centre back and really battled against a good Mablins striker.
Well done to all of the boys- plenty of positives and we can build on this performance.
Squad: Natan Czuczalow (c), Harry Poynton, Joshua Blackshaw, Daniel Laczo, Augustin Balaz, Jensen Lindsay, James Edwards and Malaki Mellor.